When:
July 27, 2019 @ 9:00 pm – July 28, 2019 @ 2:00 am
2019-07-27T21:00:00-05:00
2019-07-28T02:00:00-05:00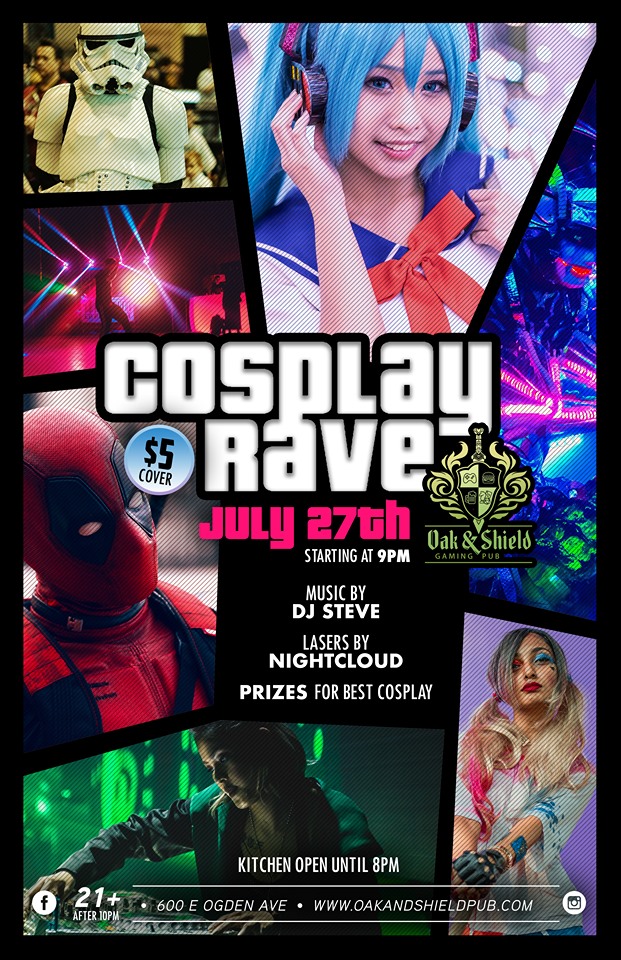 Hey Cosplay Pals,
Unfortunately, due to unforeseen circumstances, this year's Cosplay Rave has been cancelled. There won't be costumes and lasers, but we'd still love to see you this Saturday night!
Sincerely,
The Oak & Shield Team
———–
Stop looking for excuses to throw on elaborate costumes and dance the night away. We've got the only excuse you need…
It's time for our first ever COSPLAY RAVE at Oak & Shield!
We're breaking in our steampunk leather and jedi robes with an All Night DJ Dance Party.
Plus, shine some light on your stunning outfit during our epic Laser Light Show.
Cosplay is not required, but HIGHLY encouraged. Seriously, they're handing out vibranium shields like candy these days anyway.

Drink Package Available
$75 gets you All-You-Can-Drink Rail Drinks, Domestic Beers, and Exclusive Cosplay Rave cocktails
Drink package does not include tips, so please show your waitstaff some appreciation by tipping.